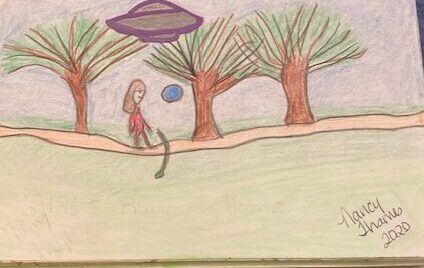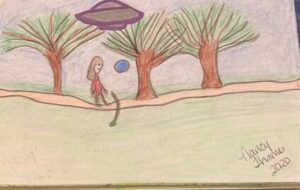 When I was five I woke up in the woods from our house and saw a dirt path and knew I needed to get home. I had no clue how I got there except I was told a lake was back there and I had no idea where my sister was. I never did these things without her. I was running and stepped on a snake but kept going. Luckily it didn't bite me. It was getting late afternoon then I saw an orb above me and telling me I will be ok, to calm down, and just go home. So I did and when I got back home everything was ok, no questions or anything. I never said a word about it. Oddly, during that period of time, I ate wild pawpaws and the pods from sour lemongrass. They were small but tasty and they were on the ends of the grass leaves. The Elders always urged me to take herbs and seek natural things in my surroundings.
Please remember we all have different opinions, Think Before You Speak or Write Something that is cruel to Others. After all, We are only Humans. Wishing you clear skies and wide eyes. To share your experiences or just leave a comment there is a area below. Read or listen.
We are the change the world has been waiting for!
Have you witnessed an unidentified flying object?
You are not alone. Whether you think UFOs are black projects, extraterrestrial craft, something else altogether, or just don't know, again: you are not alone!
Unconditional love. The road we all get to walk. Unconditional love is like the sun.
WE ARE THE DISCLOSURE ~ WE HAVE NEVER BEEN ALONE
Love and Regards,
Happy Quarantine
Thank You,
Nancy Thames