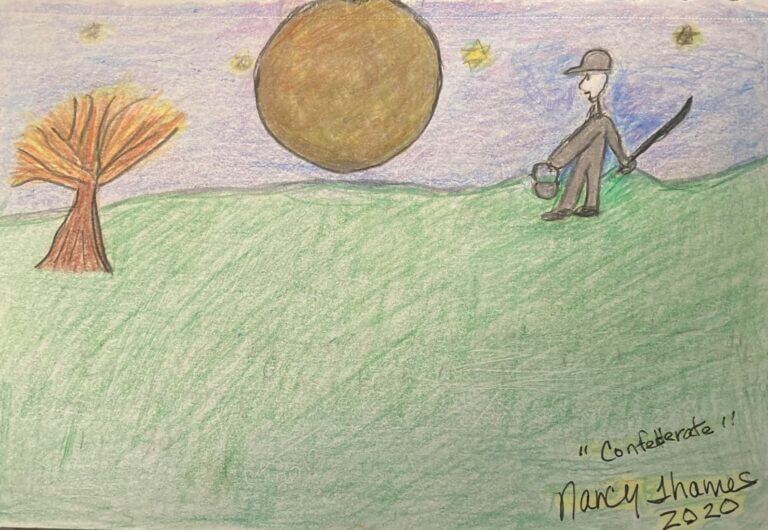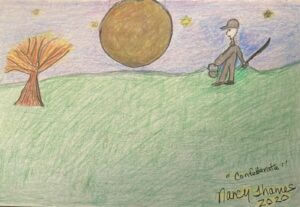 In 2013 while living in Fort Mitchell, AL , I was sitting on my back porch around 9:30 pm. I saw an Entity that was white, no color, no distinct features, just walking along my backyard for some reason. It did not scare or upset me, I just sat there quietly and never moved or said a word and it never looked or acknowledged me as it passed across the yard got to neighbors tree then disappeared, about after 10 mins I walked over to the tree and found nothing it just disappeared. I did some research and read that this ground that was now developed as a subdivision was once just fields and a battle had occurred during the Civil War and I believe this Entity or Apparition was a ghost from from that Era of The Civil War. The Entity appeared to be wearing a hat , carrying a bucket of some type and rifle with a sword attached to it. I would assume he has not found any closure to his experiences during the War. Which is very unfortunate. Just a lost Soul trying to find his way home. I was living  on the boarder line of Georgia where I worked for the Department of Defense Army Division as a Civilian Dental Assistant at Fort Benning, Georgia. Right next to Columbus Georgia and across the river from Columbus is Phenix City, Alabama. Boy does Phenix City, Alabama  have some history , Know as Alabama's Sin city. There is a Military Cemetery in Fort Mitchell, Alabama which I checked out twice.
Most likely this was a ghost or a interdimensional being looking for home or Base Camp. I lived very close to this Cemetery.
To share your experiences or just leave a comment there is a area below. Read or listen.

We are the change the world has been waiting for!
Amazing event that I experienced hope you enjoy ! For some reason I was never afraid or even shocked.
Unconditional love. The road we all get to walk. Unconditional love is like the sun.
WE ARE THE DISCLOSURE !!! ~~~ WE HAVE NEVER BEEN ALONE!!!
Love and Regards, Happy Quarantine !
Thank You,
Nancy Thames