UFOs Spotted by Ancient Romans
For all that is made of evidence of unidentified flying objects in Egyptian hieroglyphics (which are easily debunked), it was the Romans who really accumulated a number of reported sightings. These sightings were made by such reputable historians as Pliny the Elder, Livy, and Plutarch. They are widely regarded as accurate (as far as the witnesses understood) because of the rigorous procedures Roman authorities demanded before any event could be recorded in the official annals. That being said, the incidences could be talking about meteorites or comets, which to ancient eyes would have seemed otherworldly. A sample of ancient Roman "UFO" sightings includes:
In 218 BC, "A spectacle of ships ( navium) gleamed in the sky."
In 217 BC, "at Arpi, round shields ( parmas) were seen in the sky."
In 212 BC, "at Reate a huge stone ( saxum) was seen flying about"
In 173 BC, "at Lanuvium a spectacle of a great fleet was said to have been seen in the sky."
In 154 BC, "at Compsa weapons ( arma) appeared flying in the sky"
In 104 BC, "the people of Ameria and Tuder observed weapons in the sky rushing together from east and west, those from the west being routed."
In 100 BC, probably at Rome, "a round shield ( clipeus), burning and emitting sparks, ran across the sky from west to east, at sunset."
In 43 BC, at Rome, "a spectacle of defensive and offensive weapons ( armorumtelorumque species) was seen to rise from the earth to the sky with a clashing noise
Burning Globes
In Rome during the reign of Theodsius, A.D. 393, it was recorded that a huge luminous sphere accompanied by many smaller ones appeared over the fields outside of town. It was also recorded that the citizens basically panicked.
Roman writer Julius Obsequens told of people who had seen "burning globes" and "round shields" flying over Rome at night and during the day.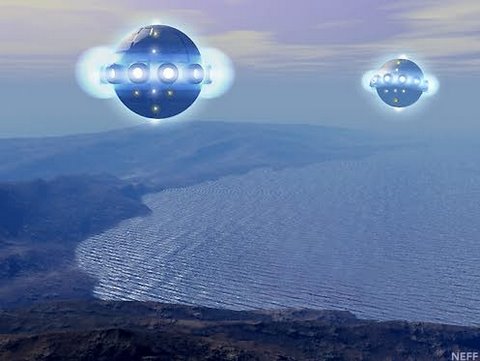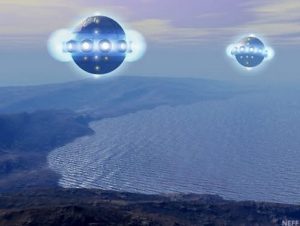 Why  I have always said we have never been alone. Love and Respect to all, Thank You,
Nancy Thames
Renaissance illustration of a UFO sighting in Rome detailed in a book by Roman historian Julio Obsequens.