By Daniel Villarreal On 7/24/20 at 11:57 PM EDT Share WorldUFOsCoronavirusCanada
Chris Rutkowski, a researcher who studies unidentified flying objects (UFOs), said that UFO sightings across Canada have increased over 50 percent during the country's coronavirus lockdown.
Rutkowski tracks reports of UFOs cited by UFO organizations, Canadian government sources and social media networks. He said that in 2019, there were 849 UFO reports. However, the number of Canadian reports between March to August was 50 percent higher than the amount reported last year during the same period.
"Most cases are just ordinary mistakes, misidentifications, but … last year, there was about 3 percent that remained unexplained, that didn't seem to be airplanes, stars, fireballs, all those types of things," Rutkowski told CTV News.
The increased reports during the lockdown, Rutkowski explained, include pilots who receive collision alerts on their transponder systems but who see no visible objects in the sky. Conversely, some air traffic controllers have reported seeing objects in the sky that don't show up on radar.
"We're getting reports from just average, ordinary people looking up at that sky and saying 'That's not a plane, that's not a star. It's been flashing lights in different colors. We're not sure what this is,'" he added.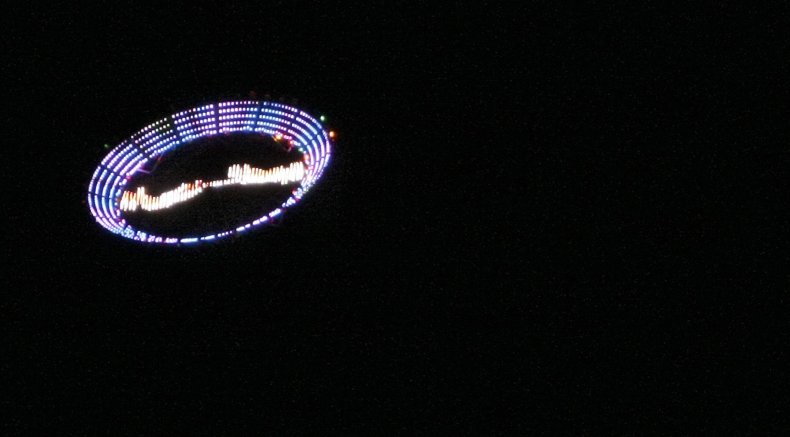 Rutkowski's report on the sightings said that most people see "point sources of light, spheres and boomerangs" when reporting UFOs.
He has several theories to explain the increase in sightings: Perhaps more UFOs have been present and physically observable recently; there could be an increase in secret or classified military flights occurring over populated areas; more people may be at home during the lockdown and taking the time to observe the sky using the internet and other viewing technology.
Newsweek contacted Rutkowski for comment.
Rutkowski's claim coincides with a recent New York Times report uncovering the U.S. Department of Defense's now-disbanded decade-long program analyzing military encounters with UFOs, though the military called them "unidentified aerial phenomena" (UAPs).
A July 23 report by The New York Times revealed that the U.S. Department of Defense, also known as the Pentagon, ran a now-disbanded program for a decade called the Unidentified Aerial Phenomenon Task Force which conducted classified briefings analyzing encounters between the military and UAPs.
On July 10, Luis Elizondo—who once led the U.S. government's Advanced Aerospace Threat Identification Program (AATIP), which was set up to investigate UAPs—said that the Pentagon has "a lot more" highly classified videos of UAPs.
In April, the Pentagon verified that military footage of UAPs released in 2018 and 2017 was in fact real.
Please remember we all have different opinions, Think Before You Speak or Write Something that is cruel to Others. After all, We are only Humans.Wishing you clear skies and wide eyes.To share your experiences or just leave a comment there is a area below. Read or listen.
We are the change the world has been waiting for! Have you witnessed an unidentified flying object? You are not alone. Whether you think UFOs are black projects, extraterrestrial craft, something else altogether, or just don't know, again: you are not alone!
Unconditional love. The road we all get to walk. Unconditional love is like the sun.
WE ARE THE DISCLOSURE !!! ~~~ WE HAVE NEVER BEEN ALONE!!!
LOL=Love and Regards, Happy Quarantine !
Thank You,
Nancy Thames : )