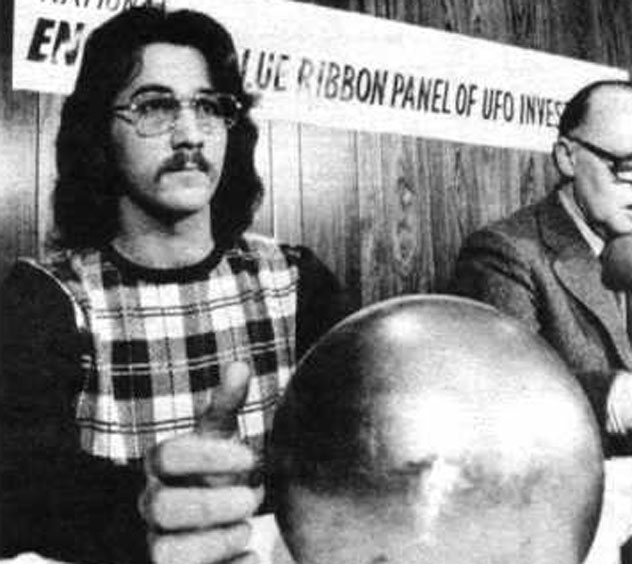 When the Betz family was examining the damage of a strange fire that had decimated 88 acres of their woodland, they made a strange discovery: a silvery sphere, about 20 centimeters (eight inches) in diameter, completely smooth except for a strange, elongated triangle symbol. Initially thinking it might be a NASA gadget or even a Soviet spy satellite, they eventually decided it was most likely just a souvenir. On a moment's whim, they decided to take it with them.
Two weeks later, the family's son was strumming a guitar in the same room as the sphere. Suddenly, the sphere started reacting to his tunes, emitting a strange throbbing sound and a resonance that deeply disturbed the family's dog. Soon, the Betz family found the orb had other strange properties. It could stop and change directions when pushed across the floor, eventually returning to the person who pushed it like a faithful dog. It seemed to draw power from solar energy, becoming noticeably more active on bright days.
It started looking like something (or someone) was controlling the sphere: It would occasionally emit low-frequency rattling and vibrations, like there was a motor running inside. It seemed to avoid falling and crashing at all costs, as if to protect something inside it. It even managed to completely defy the laws of gravity and climb up a slanted table to avoid falling.
A media frenzy ensued. Respected papers such as the New York Times and the London Daily sent reporters to witness the miracle sphere, which repeated its tricks to countless people. Even scientists and representatives of the military were impressed, although the Betz family wouldn't let them take the sphere for closer examination. However, that soon changed as the sphere took a turn for the worse. It started exhibiting poltergeist–like behavior: Doors started slamming shut at night and strange organ music would fill the house out of the blue. At that point, the family decided to find out what the sphere really was. The Navy analyzed it and found it was . . . a perfectly ordinary (if high-quality) stainless steel ball.
To this day, it's not entirely clear what the mysterious alien sphere is. However, there have been many theories attempting to explain its possible nature. The most plausible of these is, incidentally, the most mundane: Three years before the Betz family found the orb, an artist named James Durling-Jones was driving in the area where it was found. On the luggage rack on his car roof were a number of stainless steel balls meant for a sculpture he was making, some of which dropped off during the bumpy ride. These balls matched the exact description of the Betz sphere, and were balanced enough to roll around at the slightest provocation (the Betz family lived in an old house with uneven floors, so such a ball would appear to behave erratically). These balls could even emit a rattling sound, thanks to tiny metal shavings stuck inside during the manufacturing process.
Although this doesn't explain all of the reported phenomena, it certainly casts a shadow over all the "mysterious ghost ball from outer space" rhetoric.
Please remember we all have different opinions, Think Before You Speak or Write Something that is cruel to Others. After all, We are only Humans. Wishing you clear skies and wide eyes. To share your experiences or just leave a comment there is a area below. Read or listen.
We are the change the world has been waiting for!
Have you witnessed an unidentified flying object?
Whether you think UFOs are black projects, extraterrestrial craft, something else altogether, or just don't know.
Unconditional love. The road we all get to walk. Unconditional love is like the sun.
WE ARE THE DISCLOSURE ~ WE HAVE NEVER BEEN ALONE
Love and Regards,
Thank You,
Nancy Thames