On September 19, SpaceX announced the successful completion of the first ever space mission Inspiration 4. Tourists went on a three-day expedition into space without the crew of professionals on board, and as it turned out it was good, since non-professionals began to upload videos from Earth orbit without bothering to edit the "anomalies" that fell into it.
They flew into space (ticket price about $ 200 million) – Jared Isaacman, billionaire (the businessman recruited three people to his team, whom he did not know before), physician assistant Hayley Arseno, data engineer Chris Sembroski and Professor Sian Proctor.
It was Chris Sembroski who posted on his Twitter on September 25 a short video made while in Earth orbit. He accompanied it with the inscription, – "The sun is reflected from the earth, then comes out of the dome."
But attentive viewers noticed not only the shadow from the Sun, but also a UFO flying in the frame along a very unusual trajectory, which excludes the possibility that it is space debris or a satellite.
This UFO generally behaved in the same way as those UFOs that have recently been observed in the earth's sky – changing their shape and resembling living creatures made of liquid metal.
We want to remind readers that this is happening in the upper layers of the earth's atmosphere, where there are no birds and insects.
The Dragon spacecraft lifted the astronauts to an altitude of 590 km. It is about 160 km above the orbit of the International Space Station.
Interestingly, after the UFO was spotted and asked in the comments what this spiral anomaly is visible in space, Chris quickly deleted his tweet.
Please remember we all have different opinions, Think Before You Speak or Write Something that is cruel to Others. After all, We are only Humans. Wishing you clear skies and wide eyes. To share your experiences or just leave a comment there is a area below. Read or listen.
We are the change the world has been waiting for!
Have you witnessed an unidentified flying object?
You are not alone. Whether you think UFOs are black projects, extraterrestrial craft, something else altogether, or just don't know, again, you are not alone!
Unconditional love. The road we all get to walk. Unconditional love is like the sun.
WE ARE THE DISCLOSURE !~ WE HAVE NEVER BEEN ALONE
Love and Regards,
Thank You,
Nancy Thames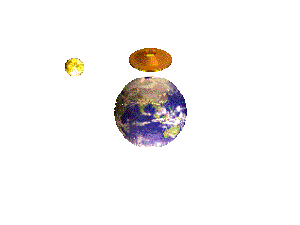 Source: Anomalien.com