Russia has sent its first humanoid robot into space. The rocket carrying the robot took off from Kazakhstan . Fedor will spent 10 days in space learning to assist astronauts on the International Space Station. Wassim Cornet has more.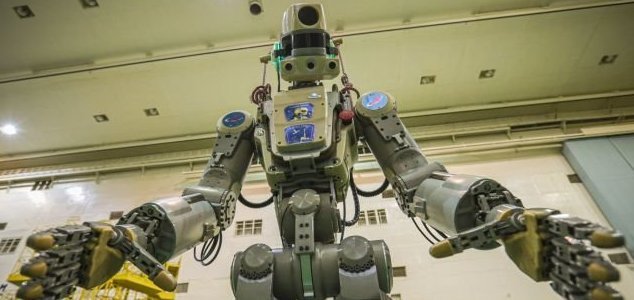 Are robots the key to sustainable space exploration ? Image Credit: Roscosmos
The humanoid contraption was the only passenger aboard a Soyuz capsule that launched on Wednesday.
Images from the inside of the spacecraft, which soared into the heavens after a successful launch from the Baikonur Cosmodrome in Kazakhstan, showed the robot clutching a small Russian flag as it sat proudly in the commander's seat.
Known as Skybot F-850 and nicknamed 'Fyodor', the robot will spent roughly two weeks aboard the International Space Station so that its creators can see how it gets on in zero-gravity.
It is the latest in a series of Russian-built FEDOR robots that can be designed to perform a whole range of tasks from driving cars to operating a welding torch and everything in-between.
Perhaps the most notorious example of the robots' versatility is a video from 2017 showing one of them wielding two automatic pistols and shooting at targets on a gun range.
The stunt even prompted Deputy Prime Minister Dmitry Rogozin to write – "We are not creating a Terminator, but artificial intelligence that will be of great practical significance in various fields."
Fortunately though, Fryodor won't be bringing any weapons aboard the space station.
Please remember we all have different opinions, Think Before You Speak or Write Something that is cruel to Others. After all, We are only Humans. Wishing you clear skies and wide eyes. To share your experiences or just leave a comment there is a area below. Read or listen.
We are the change the world has been waiting for!
Have you witnessed an unidentified flying object?
You are not alone. Whether you think UFOs are black projects, extraterrestrial craft, something else altogether, or just don't know, again: you are not alone!
Unconditional love. The road we all get to walk. Unconditional love is like the sun.
WE ARE THE DISCLOSURE ~ WE HAVE NEVER BEEN ALONE
Love and Regards,
Happy Quarantine
Thank You,
Nancy Thames
Source: Space.com