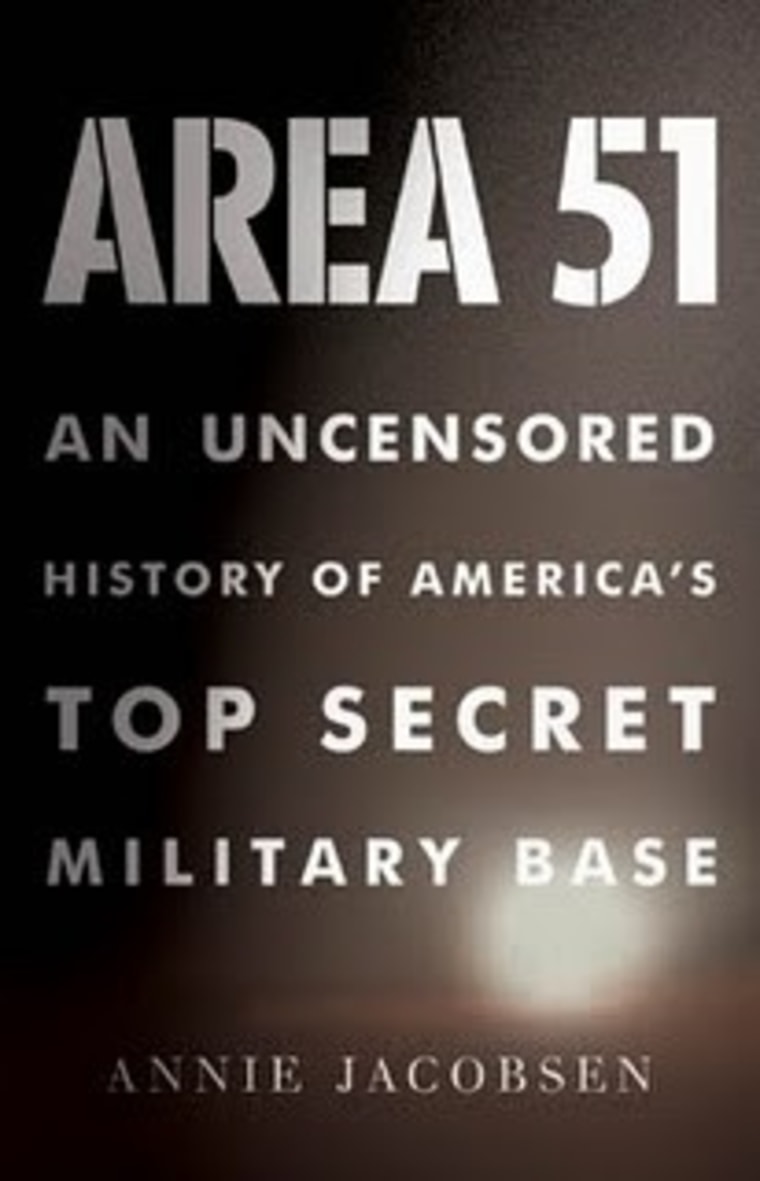 Investigative journalist Annie Jacobsen's new book, "Area 51," suggests that the Soviets stirred up the Roswell UFO incident in 1947 by sending flying disks into New Mexico with child-size aviators on board, as a warning that they could spark a UFO panic if they wanted to.
But will that explanation fly?
Jacobsen's revelation is based on an account from just one unnamed source. This source said he was an engineer with the company EG&G at Area 51,  the hush-hush military research site in Nevada. He told Jacobsen that he studied the remnants of the Roswell crash in 1951, along with four other EG&G engineers.
There are no documents to confirm the account — because, Jacobsen says, this was one of the most tightly held secrets of the Cold War. Even though that confirmation is lacking, Jacobsen says she stands by her source's amazing account. "He had nothing to gain and everything to lose by telling me," she told me, "but it was a matter of conscience for him."
Jacobsen's source recounted what he says he saw, as well as what he was told and what he surmised based on that information. Here's the scenario presented in "Area 51: An Uncensored History of America's Top Secret Military Base," based on the source's account:
After World War II, the Soviets capitalized on the work being done on stealthy flying-wing aircraft by a group of Nazi German engineers headed by two brothers, Walter and Reimar Horten. They developed disk-shaped flying machines that could sporadically evade radar detection. The U.S. military perfected such technology at Area 51 over the decades that followed to produce planes such as the F-117 stealth attack aircraft.
Soviet leaders were spooked by the U.S. military's use of the atom bomb to bring the war to a quick close. They were a couple of years away from developing their own atomic weapons, based on secrets stolen from the U.S. bomb effort. The Roswell incident was aimed at warning the Truman administration that the Soviets could create a UFO hoax, stirring up fears similar to those that were sparked inadvertently by the fictional "War of the Worlds" radio broadcast in 1938.
Jacobsen's source believes that the Soviets dispatched flying-disk drone aircraft from a mothership flying near Alaska. Intermittent radar signals were picked up by U.S. installations, but the disks were nevertheless able to enter U.S. airspace and come down near Roswell, N.M.
"Child-size aviators" were aboard the disks: humans, seemingly about 13 years old, who may have been surgically or biologically altered to give them enlarged heads and eyes. Jacobsen quotes her source as saying he was told that the alien look-alike were the result of experiments conducted by Nazi mad scientist Josef Mengele. The bodies were recovered from the wreckage, and two of them were alive but comatose.
The wreckage and the bodies were transported from New Mexico to Wright-Patterson Air Force Base in Ohio for study, then transferred again to Area 51 in Nevada. This is where Jacobsen's source saw them in 1951. The source is quoted as saying he saw Russian writing stamped on a ring that went around the inside of the aircraft, and that he saw the child-size bodies on a life support system.
When Jacobsen asked why President Harry Truman didn't report all this in 1947, she said the source replied, "Because we were doing the same thing." She notes in the book that the Atomic Energy Commission and the Defense Department carried out human experiments on the effects of radiation, and suggests that the hundreds of experiments revealed in 1995 were just the tip of the iceberg. "I believe that a lot of what the Atomic Energy Commission did was reckless and dangerous," she told me.
This latest explanation runs counter to the scenarios put forward by the federal government — first, that the Roswell wreckage came from a weather balloon, and then that it was debris from a crash-test dummy drop as well as a balloon-borne experiment to monitor nuclear blasts. It also runs counter to the long-held claims by UFO activists that the crash actually represented a covered-up visitation by extraterrestrials.
Drawing fire from both sides
As such, Jacobsen's Roswell account is taking fire from UFO skeptics as well as those who give the alien scenario more credence. In a novel twist, Clifford Clift of the Mutual UFO Network told the Santa Fe New Mexican that the linkage to German aerospace technology was too tenuous to be believed.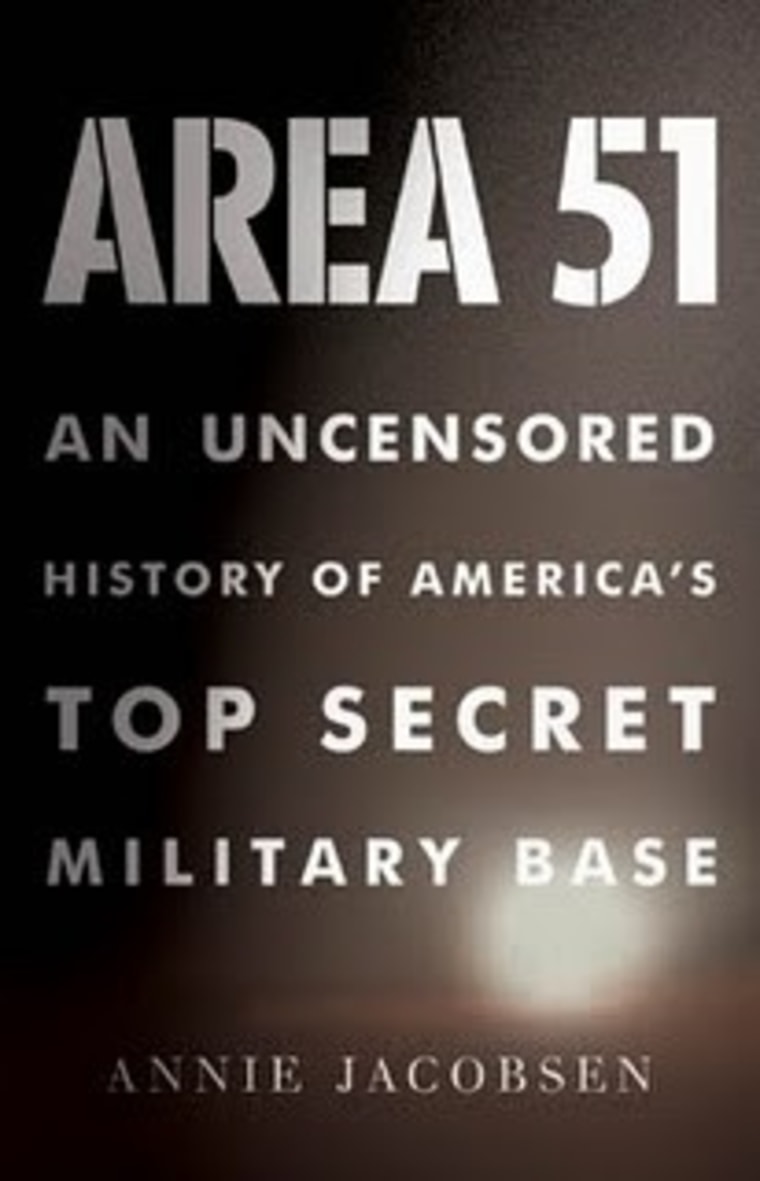 "After researching the claim, I found little truth in this theory," he said. "It is a stretch. One of my concerns is if they wanted to create panic, why in New Mexico and not in New York where there are more people to panic? I would suggest it is another conspiracy theory, and heavens, MUFON knows about conspiracy theories. They do sell books."
Peter Davenport of the National UFO Reporting Center said he also was skeptical about Jacobsen's account, although he stressed that he hasn't yet read the entire book.
"People have been studying the Roswell case for decades now," he told the New Mexican. "They've got deathbed testimony. They've got testimony from military officers who were involved, eyewitnesses. I think I'll go with the latter, rather than this young lady who penned this new book."
Investigator Kal Korff — who took aim at the alien claims in his 1997 book, "Roswell UFO Crash" — said he wasn't buying the "Area 51" story either. "Of all the crazy ideas as to what is behind Roswell, this is one of the most extreme out there," he told me in an email.
Beyond the substance of the story, there's the issue of basing such a dramatic story on one person's account. "I would never report anything related to UFOs based on only one unnamed source!" journalist Leslie Kean, the author of "UFOs: Generals, Pilots and Government Officials Go on the Record," wrote in a Facebook update.
Jacobsen told me that getting the story out of even one of the five engineers who were involved in the Area 51 follow-up to the Roswell incident was a months-long job.
"What's important to understand is that all of the top five EG&G engineers had top secret clearances and also Q clearances. … So you're dealing with the most upper-echelon clearances you could possibly have within the federal government, in the Atomic Energy Commission. Your 'need-to-know' is so strict that you only know what you know. … To suggest that the five engineers could stand around and discuss, 'Hey, what do you think is,' is a bit naive," she said. "It's 'take this craft apart and put it back together … take these bodies and move them over here.' And that is about the extent of it."
Please remember we all have different opinions, Think Before You Speak or Write Something that is cruel to Others. After all, We are only Humans. Wishing you clear skies and wide eyes. To share your experiences or just leave a comment there is a area below. Read or listen.
We are the change the world has been waiting for!
Have you witnessed an unidentified flying object?
You are not alone. Whether you think UFOs are black projects, extraterrestrial craft, something else altogether, or just don't know, again, you are not alone!
Unconditional love. The road we all get to walk. Unconditional love is like the sun.
WE ARE THE DISCLOSURE !~ WE HAVE NEVER BEEN ALONE
Love and Regards,
Thank You,
Nancy Thames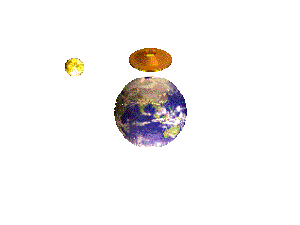 Source: Alan Boyle, Science Editor, NBC News