Is Malibu the new Area 51?
Khloe Kardashian and on-again beau Tristan Thompson embark on a surprising date in this Thursday's all-new Keeping Up With the Kardashians. In this preview clip, Khloe and Tristan plan to hike through boulders in hopes of picking up an alien energy…in addition to their natural chemistry with one another.
"Malibu has actually attracted a ton of UFO sightings and then when I was researching, I found out about this trail and this trail is supposed to have amazing alien energy, and I am so excited again," Khloe tells the KUWTK camera. "Hiking, aliens, what's better?"
Tristan is a little less enthused about possible extraterrestrial encounters. "Khloe gave me an invite. I think I was the last person in her address book to ask to come join her on this hike, but at the end of the day, it's quality time," Tristan smiles. "And it's exercise. I'm not playing basketball right now so I can get some extra cardio and be beside a beautiful woman like this…I'm going to jump at the opportunity."

photos
Khloe Kardashian and Tristan Thompson: Romance Rewind
Khloe warns that Tristan may "get crazy dreams" after visiting the alien hotspot. There's even the possibility of seeing bright lights or fainting. Yet Khloe remains unfazed. "I'm sort of supernatural myself so maybe I'm exempt," she jokes, before pointing out a unique famed rock formation.
Tristan can't seem to spot the stone in question, and the 6'10" athlete stands behind Khloe to peer through the binoculars. "Are you just doing this to get close to me?" Khloe teases.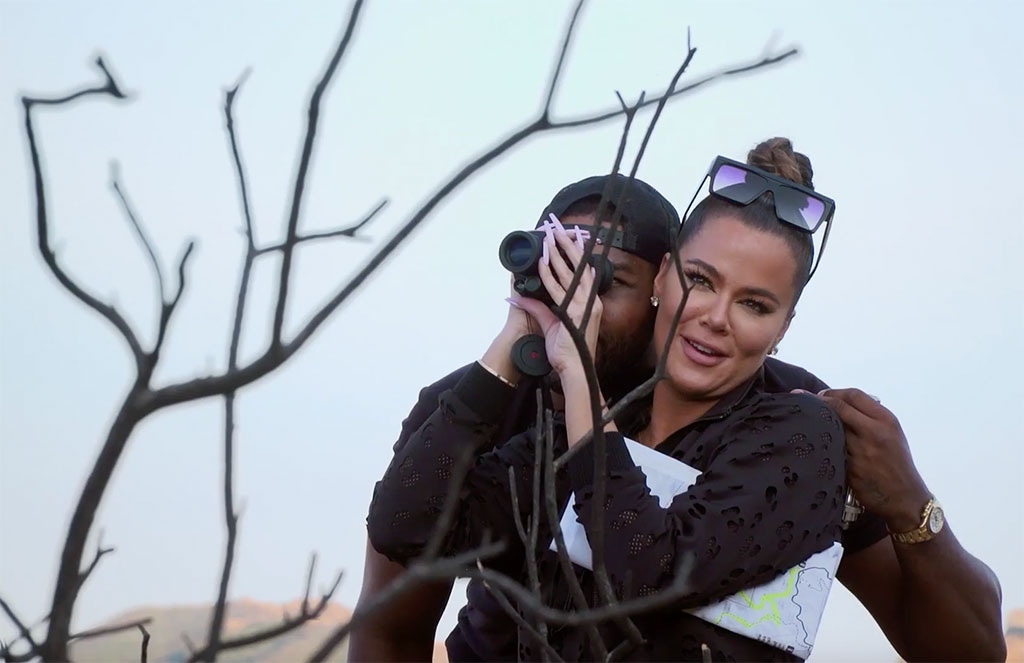 E!
Finally after locating the stacked rocks, Tristan is unimpressed. "So they think an alien put a rock right there?" Tristan chuckles. "We call that in school 'erosion.'"