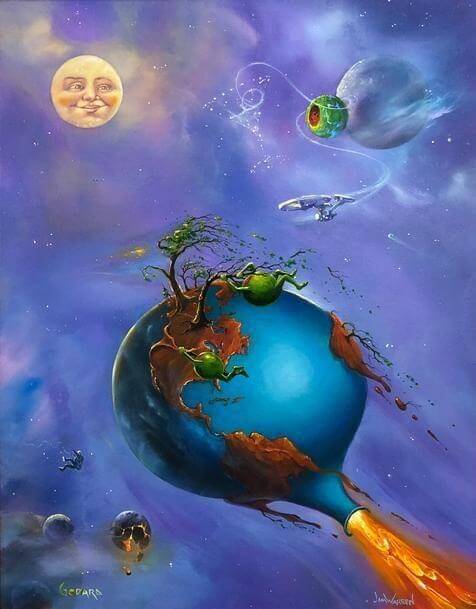 There are two main groups on Earth at present occupying each end of the spectrum, you would know them as those of the Light and the Dark. They are both fighting for control of the Earth and as it stands the Light is leading the way. The dark Ones will try by every means possible to regain their position but it will be to no avail. You could say that the dark Ones have had their day but they will not accept defeat. However, as events move on and the vibrations increase their place and influence will cease to have the power to dictate the future of mankind. With the arrests that have been taking place, their strength has been diminished and their plan for world domination is in tatters. It is difficult to see it with so much unrest all around, but the people have awakened to what has been going on. They have been making their protests all over the world and will eventually be heard and taken notice of. In reality, it is the people who hold the power and when they put their petty squabbles behind them and come together amazing things can be achieved.
Understand that the people are the backbone of society and when properly organized can achieve almost anything they set their minds upon. We for our part will guide them and protect them so that they can make progress. So the sooner Man gets himself sorted out the sooner we can help to ensure his efforts are productive. Covid19 has caused such a mess on Earth, it may seem that it will be eons of time before it can be sorted out, but with our help, we can assure you things will progress quite quickly. After all, there is much to be done and without our help, it would take you much longer. You have earned the help that awaits you but first, we must see you taking the right actions in preparation. With a grasp of the full situation, we can plot the future to ensure you get the best results.
The time-lapse has given you an opportunity to judge whether your proposed actions meet the needs of the moment, and there is so much that needs revising. There is much debt in the world and you clearly do not want to add to the problem. It will be a long haul to settle down again but with care and planning, you will eventually overcome your problems. Many souls have come to Earth specifically to help you through the inevitable difficult period you face. You are entering one that will be the start of a new era and if it is handled correctly you will benefit enormously. We wish we could come to you openly and such an event is to be part of your introduction to the Galactic Age.
It is an exciting time to be on Earth and when the dust and remnants of the old Age are cleared away you will see a new Age emerging. Passing the marker has opened so many doors for you and is why you will be overjoyed at what they will bring. The New Age is exactly what it says which is why we encourage you to think forwards and leave the rest to the history books. It has taken a long time to reveal the methods of the dark Ones and they are not finished yet, but they are in retreat. Slowly but surely all that which was unseen is coming out of the shadows to be cleansed by the Light. There is much preparation being made to ensure that those who have hidden their actions against the Light are brought to justice. There will be nowhere to hide and all will be eventually revealed.
Many projects are on the drawing board that await the appropriate time to be released. The time scale is up to you but as soon as you are perceived as ready, there is much that can go ahead. We reiterate that "small is beautiful" and much will revolve around relatively small groups that are easier to run. The big conglomerates are no longer ideal for such a setup and they are busy planning how to tackle the changes forced upon them, and clearly, they have to downsize quite considerably. Changes of this nature come from time to time and it is led by the needs of the people. The changes will be far-reaching but should not cause great disruption as some belief, and there is no reason why they should not involve a smooth transmission.
Clearly, free energy is going to bring about major changes as it affects almost every aspect of daily life. Such energy comes from an everlasting source, and how nice that would be in one of your coldest winters by not having to worry about the cost of heating. No more cold freezing nights when you cannot afford the heating you need to keep warm. It is going to take time for the benefits to be spread widely but how comforting it is to know that great hope is on the horizon. Yet free energy is just but one of the benefits waiting to be introduced.
It is nice to know that the future is going to be vastly different from what you have been used to, and all for the better. Humanity is due for great changes and not before time, can you believe that you have been deliberately held back and denied many changes that have not seen the light of day. The dark Ones have so much to answer for and their day of reckoning is approaching ever nearer. It must be difficult for you to understand that a group of human beings can have so little cared for what you might call the rank and file. Be assured that there will be a day not far into the future when their activities will be drawn to their attention and have to be answered for.
We have to tell you that the worst of the dark days have passed, and as soon as you have straightened yourselves out the changes will begin in earnest. You have been promised much in the past that has not always been possible to introduce, but now the situation is much better and we see no reason why good progress cannot be made. In the past, you have been let down by the politicians, but in the future, you will be truly represented. Politics at present is in something of a mess and does not work correctly for the people but soon that will be put right.
You have been very patient and deserve every benefit that is coming your way and so far we have only scratched the surface. In time you will have been compensated for all of your troubles and life will take on a totally different meaning. Words cannot do justice to what we see lies ahead for you and we know you will not be disappointed. Soon the true leaders will come to the forefront and you will know that they are genuine.
I leave you with love and blessings, and may the Light brighten your days and path to completion. This message comes through my Higher Self my Godself.
In Love and Light.
Mike Quinsey
Artist: The Michael Godard Art Gallery
Please remember we all have different opinions, Think Before You Speak or Write Something that is cruel to Others. After all, We are only Humans. Wishing you clear skies and wide eyes. To share your experiences or just leave a comment there is a area below. Read or listen.
We are the change the world has been waiting for!
Have you witnessed an unidentified flying object?
You are not alone. Whether you think UFOs are black projects, extraterrestrial craft, something else altogether, or just don't know, again, you are not alone!
Unconditional love. The road we all get to walk. Unconditional love is like the sun.
WE ARE THE DISCLOSURE !~ WE HAVE NEVER BEEN ALONE
Love and Regards,
Thank You,
Nancy Thames